About the Club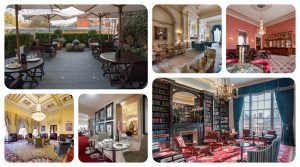 The Club was formed in March 1972 by the amalgamation of the United University Club and the Oxford and Cambridge University Club.  In its first year, the Club was housed at 1 Suffolk Street and thereafter at 71 – 77 Pall Mall.
At the time of its creation the Club had 2,897 members as well as 563 lady associates.  In February 1996, the Club voted by an overwhelming majority to allow women full membership with unhindered access to all areas of the Club house. In March 1997 Queen Margrethe ΙΙ of Denmark became the first Honorary Lady Member. In June 2017 the Club elected its first female Chairman.
The foundation of the Oxford and Cambridge Club dates from a meeting of members from the two universities held at the British Coffee House, 27 Cockspur Street on 17 May 1830, with Lord Palmerston in the chair.
The meeting resolved that a Club consisting of members of both universities should be formed 'for the association of individuals educated at those universities and for promoting and continuing a mutual interest and fellowship between them.'
To the present day, that has been our enduring ethos.