Music Prize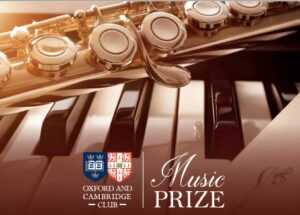 THE 2024 MUSIC PRIZE IS NOW OPEN
The Oxford and Cambridge Club offers an Annual Bursary to one member each of Oxford and Cambridge Universities who will leave their University in June each year.
The successful candidates will receive a year's free access to the Club house at 71 Pall Mall (or a waiver of their annual subscription if already a member) from 1 September and a credit on a Club Card of £2,500 to spend within the Club. In return, the successful candidates will be asked to perform at least one concert that year in the Club's regular concert series.
In addition, a third prize will also be awarded, The Denis Moriarty Prize for Musical Excellence. The winner will receive a bursary of £1,000.
The Music Prize opens for application in October each year.  Applicants submit an audio or video recording of no longer than 10 minutes on their instrument of choice, together with a personal statement and completed application form.   Successful candidates will be invited to perform before a selection panel with the award made no later than the end of the Hilary or Lent term.
This will be an ideal opportunity for talented musicians to establish a presence in London as they start their careers whilst enjoying the excellent dining and recreational facilities offered by the Club.
Applications for the 2024 Music Prize are invited, please click here to download the application form.   The closing date for receipt of applications is 12 January 2024.